RCSCC John Travers Cornwell VC
100th Anniversary Reunion - May 28-31, 2020
The Countdown Begins...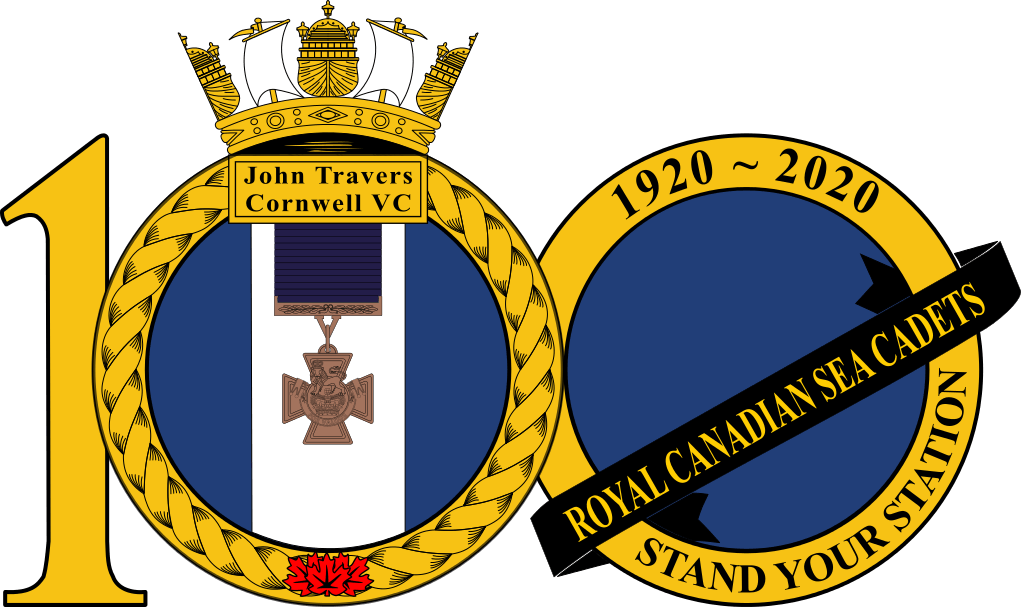 The countdown to the Centennial celebrations for RCSCC John Travers Cornwell VC has begun. It is now less than a year until the big event. Your Alumni Team has booked most of the venues and is well on its way to working out all the details for all the events of the 100th Anniversary Reunion. There are, however, still some events and details to be worked out, but we will let you know once those details are available.
A website has been created to keep you, the Alumni of JTCVC, informed about all the details of our 100th Anniversary Reunion. The site can be found at the address: http://centennial.jtcvc.ca/. Please bookmark it and return for up to date information about our Centennial/Reunion.
When you visit the site, you will see a menu along the top with the following information:
Home: This will take you to the site's homepage, where you will find all the latest announcements about the Centennial celebration.
Event Details: Your Alumni Team is arranging several events during the Centennial weekend, and this menu option is where you will find details about each of the events planned.
Tickets: For the two main events, the Alumni Meet & Greet and the 100th Anniversary Reunion Dinner, tickets will be required to attend; this is where you find information about the cost of tickets and how to obtain them.
Souvenirs: Your Alumni Team is arranging for several souvenirs items, such as Polo shirts, pins and coins; this will be where each of the souvenirs items are described along with information on how to purchase them.
Accommodations: The hotel where we are holding the two main events has arranged for a special room rate for those of you wishing to stay in the same hotel as the event; this is where you can find information on booking your stay with them.
Contact Us: If you need to get in touch with us, all our contact information is found here.
Alumni Website: This link takes you to the JTCVC Alumni website where you will find Corps pictures and information from the past 100 years.
As well as the website, we will also be posting announcements about the Centennial celebrations on our Facebook group, so be sure to join and follow our group to stay informed. Our Facebook group is called: JTCVC Alumni. And finally, we will be sending information out to our e-mail mailing list. To join our mailing list, send an e-mail, asking to join, to: alumniteam@jtcvcalumni.ca.
Your Alumni Team is extremely excited about our Centennial plans, and we hope you are too! We really hope to see you during the weekend of May 28-31, 2020. Be sure to tell all of your JTCVC Alumni friends, be they former Cadets, Officers, Civilian Instructors, Branch members, or just friends of the Corp, to join our Facebook group and e-mail mailing list, and to visit our Centennial website.
Stand your station,
JTCVC Alumni Team.